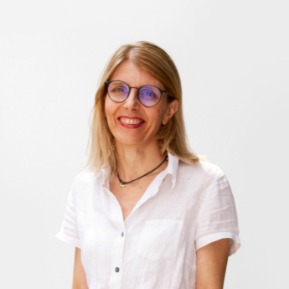 Alessia Moltani, CEO and CO-founder of ComfTech, in an interview with Sara Scarpinati of "Healthware", introduces HOWDY, the innovative wearable monitoring system designed by ComfTech, which opens the door to Telemedicine.
Why "ComfTech"?
The company's name refers to the importance of usability and comfort of our wearable systems: ComfTech, in fact, comes from "Comfortable Technology".
At ComfTech, we have a multidisciplinary team where engineering, design, textile research, communication, business & value development combine to create a functional and effective methodology, always with a particular focus on sustainability.
Years of experience in textile design and manufacturing, combined with knowledge of sophisticated technologies and materials, brought ComfTech to create textile sensors fully integrated in clothing which can monitor all the vital functions of the wearer in a continuous, completely non-invasive way.
Moreover, everything in ComfTech is made in Italy, from research and prototyping, to smart textile productions and electronic components.
Your goal is to offer a wearable solution that can monitor physiological parameters, anytime, anywhere.
In ComfTech's vision, the garment, used by man since ancient times, is the most comfortable platform to integrate sensors whenever you need continuous monitoring… Monitoring without limiting any daily movements and activities and safeguarding the reliability of the data!
Therefore, although in a garment our company can easily integrate a considerable number of sensors, the technical aspects must never be an obstacle to the main feature for which the garment is selected: comfort.
Sensors and technology are applied in many fields, I guess…
At this time, we are responding to the growing demand for comfortable and long-term monitoring for the adult. We recently certified a product, HOWDY® SENIOR, designed for 24 hours monitoring of heart rate (we provide ECG tracings), respiratory rate, temperature, movement and body position. The data can be correlated according to the needs and sent remotely for visualisation by clinicians and they can also be integrated into telemedicine platforms.
The system is very useful in a situation like the present one, being of wide support to all fragile patients at home and obviously also to COVID patients.
In our next projects, we are focusing on sleep monitoring, with particular attention to sleep apnoea, rehabilitation of patients after cardiac surgery, post-COVID rehabilitation and monitoring weight management progress in obesity cases.
Our user centered approach makes us not only open, but also structured for collaboration with clinicians, industry operators, telemedicine and pharmaceutical companies during the testing phase.
We are aware that our system, which has been recognized as one of the best monitoring tools, can be very useful to support the great process of progress in medicine, but it is a link in a complex chain, so we are open to dialogue with all operators in order to keep optimising ourselves.
Read the full interview HERE